The Mood Was Optimistic at the Singapore Airshow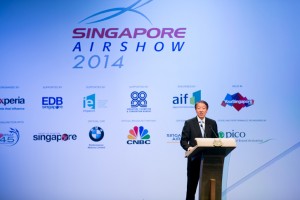 The biennial Singapore Airshow is Asia's largest aircraft industry gathering in the eastern hemisphere. Covering all sectors of aviation, from helicopters to aircraft and drones, the event is a showcase for the state's own aerospace capabilities as well as a dedicated marketplace for the world's manufacturers.
Asia on the horizon
In an article for CNN, Enrique Perrella of Airways Magazine says over 650 delegates made their way to the four-day air show, held Feb. 16-21, and the optimistic mood was apparent. Perella reported that Asia is widely seen as the next aviation epicenter of the world, and aircraft manufacturers are investing heavily in the region, although recent changes in oil prices took a bite out of sales projections for newer, fuel-efficient aircraft.
An aircraft display area situated just beside the main exhibition hall drew many visitors. According to the Both the U.S. Air Force and Republic of Singapore Air Force had aircraft and helicopters on display.
According to the Singapore Airshow website, some of the aviation stars available and on display included:
Airbus Helicopters: EC-130, EC-135, and H-145
Gulfstream: G150, G280, G450, G550, and G650
Dassault Falcon 7X
Embraer Legacy 500
Gulfstream steals the show
According to Aviation Week, Gulfstream brought its entire business jet fleet to the airshow, including the extended-range G650ER, which is powered by a Rolls-Royce BR725 A1 engine and capable of flying 7,000 nautical miles. There are upward of five dozen Gulfstream aircraft based in Southeast Asia for good reason.
According to Andreas Meisel, as cited in Perella's CNN article, by 2025, it is expected that there will be 200 megacities in China, and each will need to be connected by air and rail. Both commercial and low-cost carriers are introducing new routes, and demand for enhanced aviation infrastructure continues to grow. Direct connectivity is key for the development of the Asia-Pacific region.
[cta]Contact L & L International if you need assistance in purchasing or selling a private jet.
You can reach our sales specialists today at sales@L-Lint.com, call us any time at +1.305.754.3313, or visit us online.[/cta]