Hawker Beechcraft 800XP Is Still a Popular Choice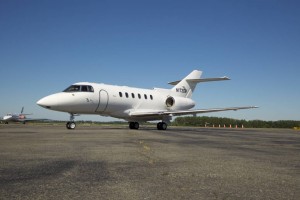 The Hawker Beechcraft 800XP is a midsize, low-winged, twin-engine corporate jet aircraft originally developed by British Aerospace and assembled by Hawker Beechcraft. As explained by Aerospace Technology, it was derived from the design of the U.K.-built de Havilland and evolved into the 800 series in the 1990s. Over 275 Hawker 800s were built until the 800XP arrived on the scene in 1995.
The Hawker 800XP is an all-metal construction with low, one-piece wings; a high tailplane; and rear-mounted engines. Widely acclaimed as one of the most successful private jets ever made by British Aerospace, the cabin of the 800XP is typically configured with eight fully adjustable seats that swivel 360 degrees. The cabin measures 21.3 feet long with 5.7 feet of headroom and is 6 feet wide. The in-flight accessible baggage compartment holds 48 cubic feet of luggage.
Equipped with twin engines capable of delivering 4,660 pounds of thrust, the Hawker 800XP can climb to 37,000 feet in 20 minutes. Its high-cruising speed is 465 knots. If needed, it can fly up to 41,000 feet to avoid weather or traffic.
One of the 800XP's best features is its ability to take advantage of runways that are shorter than typically required by private jets. At sea level, just 5,032 feet of runway is needed. The Hawker's maximum range is 2,540 nautical miles, which means Los Angeles to New York is possible — as is Beijing to Singapore.
The combination of better runway performance and increased payload means greater flexibility in non-standard conditions. Striking a nice balance between fuel economy, cruise performance, and takeoff distance, the Hawker Beechcraft 800XP is a reliably strong contender when it's time to purchase a private jet.
[cta]Contact L & L International if you need assistance in purchasing or selling a private jet.
You can reach our sales specialists today at sales@L-Lint.com, call us any time at +1.305.754.3313, or visit us online.[/cta]