Gulfstream G200 Is a Top Competitor in the Super-Midsize Category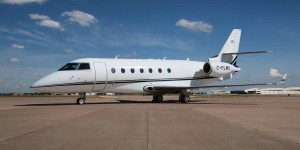 It's not every day that an early-generation private jet turns out to be a huge success, but the Gulfstream G200 is an exception. According to Gulfstream, it first entered into service in 2001 as a super-midsize aircraft and has enjoyed incredible popularity ever since.
A few facts from Gulfstream to consider:
The Gulfstream G200 climbs to an altitude of 37,000 feet in just 19 minutes.
Ideal for long-haul transcontinental or transoceanic flights, the G200 has a range of 3,400 nautical miles and a cruising speed of 540 mph.
The cabin is 24.4 feet long by 7.2 feet wide with 6.3 feet of standing headroom.
Power outlets are available for each of up to nine passengers.
In the external compartment, 125 cubic feet of baggage is available — the largest in its class.
Plus, the Gulfstream G200 is unique in its ability to maintain a cool cabin. The air in the temperature control system continuously provides fresh air to the passenger cabin, instead of recirculated air.
The forward galley features a microwave, coffeemaker, sink, and ice drawer. The rear lavatory has a solid sliding door, vanity with storage, sink, and running water.
In short, the Gulfstream G200 has everything that could be desired from a private jet: terrific range, delightful cabin size, and a comfortable ride.
[cta]Contact L & L International if you need assistance in purchasing or selling a private jet.
You can reach our sales specialists today at sales@L-Lint.com, call us any time at +1.305.754.3313, or visit us online.[/cta]