EASA Approves Jet Aviation Vienna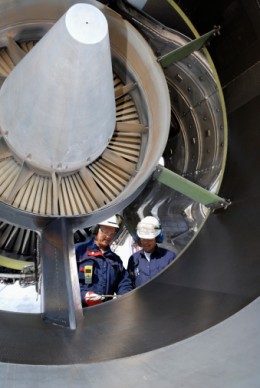 Jet Aviation Vienna, a wholly owned subsidiary of General Dynamics aircraft maintenance company based in Basel, Switzerland, received authorization from the European Aviation Safety Agency (EASA) to deliver maintenance services to the Gulfstream GV-SP series aircraft, including the G550″, according to a Jet Aviation news release.
The news release says that Jet Aviation "also provides line and base maintenance and AOG [aircraft on ground] services to the Cessna Citation series and Bombardier Challenger 300 aircraft, as well as line maintenance services to Bombardier Learjet and Global 5000 aircraft.
A long history
Founded nearly 50 years ago, pioneering company Jet Aviation was started by the late Carl W. Hirschmann, according to Jet Aviation's "About Us" page. During the 1970s, the company opened facilities in Germany and Saudi Arabia. In the 1980s, it expanded further into Europe and the Middle East. It successfully entered the U.S. market and opened its first facility in Singapore in 1995.
Now, with eight locations in the U.S., one in the Caribbean, nine in Europe, five in the Middle East, and three in Asia, according to the company's "Locations" page, Jet Aviation is poised to be a very useful name to know when you need jet maintenance or service. An AviationPros press release says that Jet Aviation Vienna was founded in 2014 when it entered agreements with Gate V and FAME, former service providers at the Vienna International Airport. It's newly constructed 4,000-square-meter hangar facility provides scheduled and emergency maintenance as well as off-site services.
With nearly 5,000 employees, according to the press release, Jet Aviation appears to be in the sweet spot for delivering aircraft maintenance, but it also manages flight services, charter services, aircraft sales, and staffing solutions for those situations when you need additional support.
[cta]Contact L & L International if you need assistance in purchasing or selling a private jet.
You can reach our sales specialists today at sales@L-Lint.com, call us any time at +1.305.754.3313, or visit us online.[/cta]