In-Flight Connectivity Sees Potential Advancements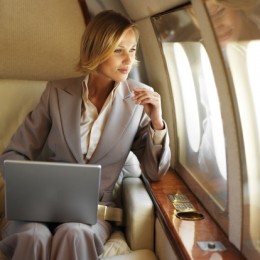 Up until very recently, getting on a plane meant being cut off from any sort of communication with the rest of the world. It meant spending the flight wondering about important calls and emails, and hoping that things would run smoothly until you were back on the ground. Technology is quickly catching up, however, and our ability to stay connected while in flight has dramatically increased to include our phones, television, and most recently, the Internet — making midflight connectivity nonnegotiable for many passengers.
But some manufacturers such as Honeywell, Satcom Direct, and others have designed their equipment to be installed in a certain way, while other vendors have found a different range of methods to integrate their communications systems. Without standardization or alternative methods for integrating these solutions, providing in-flight connectivity can be a challenging task for aircraft owners.
The National Business Aviation Association (NBAA) formed a working committee two years ago to address this problem and to create a standard for cabin electronic systems. Headed by Boeing's Mike Wuebbling and IBM's manager of aircraft maintenance services, Jim Janaitis, the committee aims to establish common equipment as well as create performance and serviceability standards.
A competitive market
With the rising popularity of in-flight connectivity solutions for business aircraft, advances in technology have made in-flight email and texting possible through the utilization of new communications frequencies. New players in the field such as Gogo Inc. are already creating next-generation aviation technology systems to improve air-to-ground connectivity. Other newcomers, like SmartSky, strive to bring airborne 4G LTE-based wireless networks to the business aviation market, with their beta launch planned for the end of 2015.
One roadblock newcomers to in-flight connectivity solutions may face is getting regulatory approval from the Federal Communications Commission (FCC) to gain spectrum rights for their air-to-ground (ATG) systems. Gogo currently dominates holdings of FCC spectrum licenses, but if access to other spectrums is granted to competitors by the FCC, Gogo's position may become more precarious.
But the FAA approval process for installing connectivity equipment on planes is reportedly an arduous endeavor, and some experts predict that commercial services may not launch until well after 2020. In the end, standardization for in-flight connectivity must happen. And when it does, it will make it easier than ever to stay well connected while in flight.
Contact L & L International if you need assistance in purchasing or selling a private jet.
You can reach our sales specialists today at sales@L-Lint.com, call us any time at +1.305.754.3313, or visit us online.